Latest news
Richard, Bob, Colins run was an excellent run. Thank you Colin for stepping at the last minute due to Bob being incapacitated.

Congratulations to Tim and Sandy in winning the skittles match held on 11th October.
I have received from HQ 2 documents. The first is a re-issue of the 5 year plan and the other is titled "Strategy or the future of the VMCC". It requests I send this out and asks for any comments. Please contact Tony to get a copy of these documents via email.
3 motorcycle autojumbles being organised in Jim Burnards name during the next 3 months. Please see attached flyer for details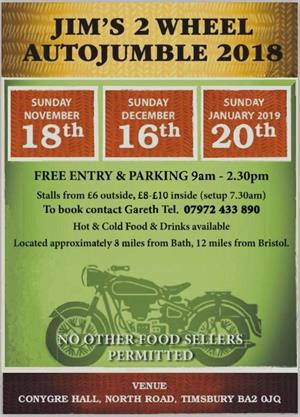 Thursday 18-Oct Wandering to the Red Bull in Malmsbury. Please give Colin your menu choice by Monday 15th October.
Sunday 21-Oct Autumn Leaves run led by Jim Gaisford. Meet in Acton Turville
Thursday 25-OCT Section meeting AGM
Sunday 04-Nov New Forest Autumn Leaves Run led by Peter Fielding. Meet in Devizes market place for 10-00am depart.
Thursday 08-Nov Section meeting, Colins Quiz Night. Wives and sweethearts welcome.
Thursday 15-Nov Wandering to the Wishing Well, Codrington.
Thursday 22-Nov Section meeting. Talk by Cdr Cliff Fiander. "Life on a Nuclear submarine".
Safe Riding

Tony Kay
Secretary
VMCC West Wilts section
01380 722288