Latest news
Notes regarding VMCC West Wilts Section Meeting, 25th October 2018 at CRFC
3 motorcycle autojumbles being organised in Jim Burnards name during the next 3 months. Please see attached flyer for details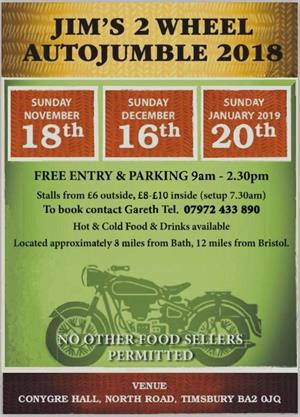 Notes regarding VMCC West Wilts Section Meeting, 22nd November 2018 at Chippenham Rugby FC
The wandering to the Wishing Well, Codrington was well attended with 29 participants and a wide range of motorcycles in use, and the food was appreciated by all.
Reminder: Wandering Thursday 29th November 2018, order your grub!
Wandering to The Fox and Hounds at Acton Turville (GL9 1HW) on the 29th Nov. from mid-day, as per Colin's email 18/11/2018. Pre-order menu choices to Colin (colin.smith1951@btinternet.com) by Tuesday 27th Nov please. Colin's email and menu attached.
Christmas Dinner & Prize Giving:
Now fully booked, see below.
VMCC West Wilts Section Holiday
The Section Holiday (2nd-9th June 2019) has already received sufficient bookings for us to proceed, so bookings and deposits to Pete Fielding asap please. See Pete's email 26th October for details. Only 8 Places now left so get your deposit in.
Thursday 29-Nov Wandering to the Fox and Hounds, Acton Turville, (GL9 1HW) from mid-day.
Thursday 06-Dec Section Christmas Dinner. The Old Royal Ship, Luckington (SN14 6PA)
7.00pm ready 7.30pm sit down.
Thursday 13-Dec Section meeting at CRFC (SN14 0YZ), 7.30 ish onwards for 8.00pm meeting,
beer 'n chat.
Wednesday 26-Dec Boxing Day Meet, South Cotswold Section, The Whitminster Inn, Whitminster
GL2 7NY (on A38), 12noon onwards.
Thursday 27-Dec Mince pie run, Swindon Section, tba
Safe Riding

Jeff Falkner

Secretary

VMCC West Wilts section

01249 657310